Strong presentation skills are essential for communicating your point, influencing and persuading people, and demonstrating effective leadership.
We've discussed the advantages of developing your corporate presentation skills in two recent articles, How To Improve Your Presentation Skills In A Corporate Environment and Why Presentation Skills Are Essential To Every Business, but today we are exploring the other side of the coin: what happens when those skills aren't up to scratch?
What are the short- and long-term consequences of poor presentation skills, and what can you do about it?
The consequences of poor presentation skills
Sub-par presentation and communication skills can have a detrimental impact on your company's growth, revenue and opportunities for expansion.
For example, if your sales team lacks strong presentation skills, then they won't be able to close the sale as frequently as they should. If your own presentation skills aren't quite hitting the mark, then you'll struggle to deliver presentations that impress potential clients and investors. This will result in your business falling short of sales targets and not generating enough profits to grow and expand.
In fact, a survey by the Economist Intelligence Unit found that the consequences of poor communication include a delay or failure to complete projects, low morale, missed performance goals, and even lost sales.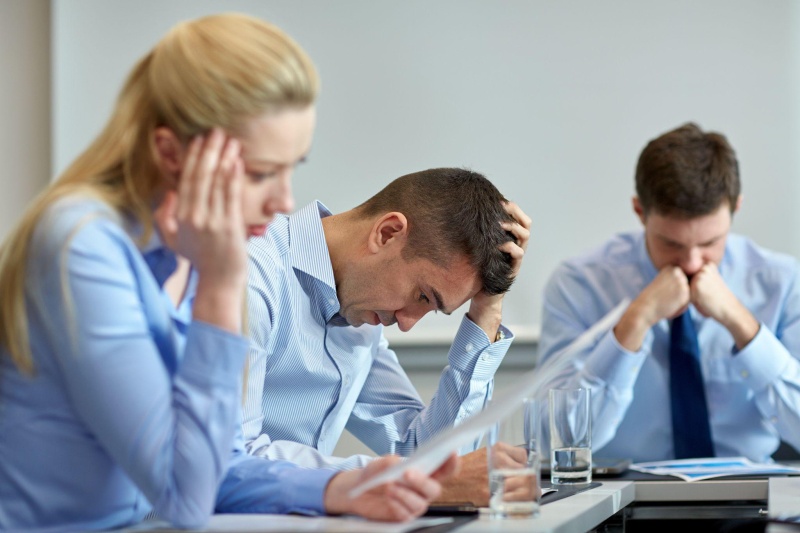 Here are some other repercussions of poor presentation skills in the workplace:
Stress and low morale
Presentation skills aren't simply for those standing in front of groups. They are the essence of strong communication and leadership as well.
Many problems companies experience stem from miscommunication and crossed wires in the workplace – ones that could be headed off by confident leaders with strong communication and presentation skills.
Issues that could have been dealt with at the time are instead left to fester, leading to increasingly high levels of stress and a palpable feeling of tension in the air. In this kind of environment, people tend to go into 'workplace survival mode', where they are solely focused on making it to the end of each day.
Trust breaks down (or cannot be built in the first place), relationships are strained, and your team's performance as a whole suffers. People cannot work at their best under high levels of stress and duress, so this will impact your team's productivity in the short run and your company's growth in the long run.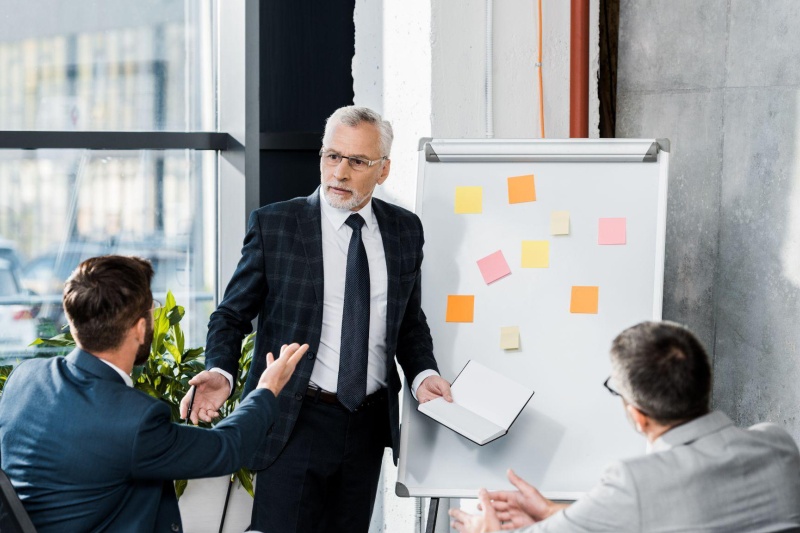 Unmet expectations
Lack of effective communication causes confusion regarding priorities and responsibilities, leading to unmet expectations between employees and their superiors.
The consequences of this can include missed deadlines, scheduling conflicts, and inefficient allocation of time and resources — all of which are counterproductive to business growth.
Reputation
Your company's reputation is hugely important when it comes to attracting top talent, impressing investors, and securing new clients. If your team lacks the skills to deliver a compelling sales pitch or an engaging speech, then your reputation will suffer and you'll struggle to hit your targets.
Execution gap
For any organisation to function as a cohesive unit, it is essential that everyone gets involved in sharing ideas and plans. If people lack the presentation skills to effectively get their points across, this results in a gap between what is planned and what is actually achieved.
In order to successfully implement strategies for long-term business growth, you need to be able to inspire and rally your team around a shared goal, and everyone needs to be able to communicate clearly with each other.
Unhappy clients
When a team regularly misses deadlines or appointments due to poor communication, it leads to unhappy clients and customers who will inevitably take their business elsewhere.
Work on developing your presentation skills so that you can clearly communicate your expectations to your team, and then focus on developing their skills so that they exceed your client's expectations at every turn.
This is a key factor in creating the conditions for long-term, sustainable business growth.
How to improve communication and presentation skills
Your team's ability to communicate with each other and with management can have a powerful impact on your company's overall performance and growth.
As Andrew Griffith notes, there is an increasing need for senior executives and CEOs to 'develop their presentation skills now, taking into consideration the diverse range of communication mechanisms and the diverse audiences they are required to present to.'
Here are some tips and strategies for improvement:
Presentation skills training
Organising training workshops and programs for your employees and team leaders is a great way to help them develop their skills (but make sure the facilitator has excellent presentation skills themselves!)
Positive company culture
Set up a weekly meeting where everyone has the opportunity to raise concerns, ask questions, contribute ideas, and brainstorm solutions to problems. Make sure your employees feel valued by celebrating their accomplishments and reaching out if they are struggling.
Clarity around roles and responsibilities
Make sure everyone knows exactly what their role entails and what they are responsible for. During particularly busy periods, ensure that each team member knows what to prioritise.
Deliver with clarity and confidence
The ability to convey your message with clarity and confidence is one of the most vital aspects of business growth, development, and success in the long run. Without strong presentation skills, you risk missing out on opportunities at every turn.
NxtGEN Executive Presence helps companies to establish and develop world-class presentation skills that blow employees, colleagues and clients away.
We offer executive presentation skills training that we can tailor to suit all of your needs. If you want to improve your presentation and communication skills or those of your team, get in touch with us today, and don't forget to check out our blog and resources for the latest industry news and thoughts.