In every professional sector, it's well documented that good staff are hard to find and even harder to keep. It is for this very reason that companies all across the world are implementing leadership development programmes, not only to retain their most talented employees, but to transform them into future business leaders.
An estimated global spend of $50 billion is spent annually on leadership development by companies looking to stay ahead of the curve. It appears that many employers have realised that the recipe for business success lies not in finding new leaders, but rather filling these talent gaps from within.
Why is leadership development important?
Growing the success of your business by tapping into the capabilities of your existing workforce has many rewards, both for employers and employees alike. Technology giants Amazon take this particular approach very seriously, offering their new hires the opportunity to take part in a month-long training and leadership program before they even start with the company, footing 95 percent of the tuition bills for such courses.
So, why is it so important to foster leadership development within your team?
1. It reduces staff turnover
Firstly and most importantly, leadership development will have a hugely positive impact on the reduction of staff turnover. Employees are far more likely to remain in a role when managed by a strong, ethical, approachable and inspiring leader, meaning you will reap the benefits of continuously upskilling and educating those currently in senior leadership positions.
2. It promotes employee commitment
Furthermore, showing commitment to your team by investing time and resources into their development as future leaders in turn strengthens their commitment to your company. An individual that is continuously presented with opportunities to grow and progress is less likely to consider moving onto greener pastures.
Other employees of your company will also take note of this potential for growth, increasing their motivation to reach targets and achieve performance goals that might highlight their leadership potential.
3. It develops crisis management skills
Nurturing successful leadership can also have a huge bearing on how companies perform in times of crisis. If you take the coronavirus pandemic for example, countless organisations were forced to pause operations overnight as they scrambled to deal with remote working and delayed customer responses. Leadership development encourages the growth of such adept leaders, who can confidently tap into their strategic problem-solving ability when the going gets tough.
Furthermore, leaders that approached the Covid-19 crisis situation calmly and with empathy, and with the health and wellbeing of their employees foremost in mind will be remembered for these actions and will reap the benefits of continued loyalty. Katherine Maher, CEO of The Wikimedia Foundation, is a prime example, offering to pay staff in full during the height of the pandemic even if they felt the need to "dial back" their hours for the sake of their mental health.
4. It encourages accountability
Encouraging certain employee character traits, such as accountability, is an important part of leadership development. In fact, a recent survey found that 66 percent of participating companies provided leadership skills programmes to their employees that involved leadership character development.
By acknowledging when they've made an error and rectifying it accordingly, a leader promotes accountability within their team while providing an opportunity for others to learn from their mistakes.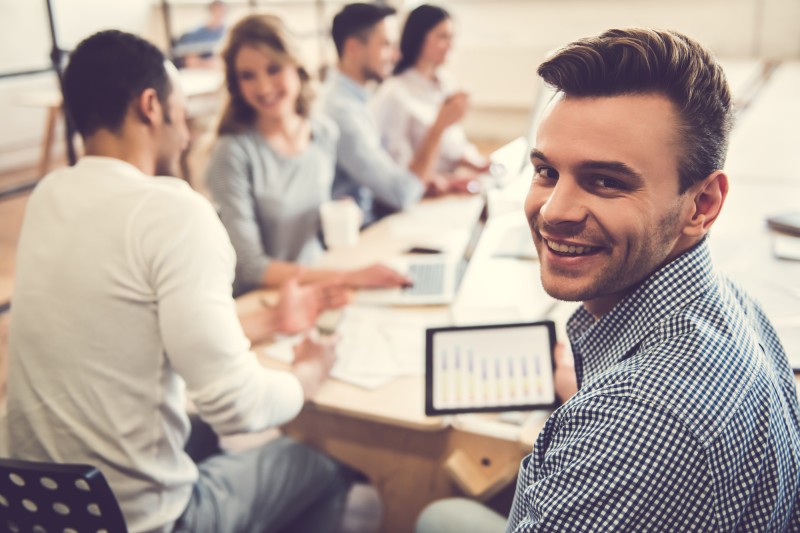 How to turn employees into leaders
1. Examine your own leadership ability
To create effective leaders, you must in turn lead by example. Have a clear idea of your company's culture statement when deciding who will help you to steer your business in the right direction.
Talk to your employees to find out their thoughts about the company's ethos and approach. Those with interesting ideas on how the company could grow and evolve might just be the ones to take the helm in the future.
2. Identify the natural leaders
When creating leaders from within your organisation, it's important to look at how each employee performs, not just in terms of their individual role, but in aspects of everyday life. By observing how they interact with others, listening to the questions they ask and monitoring their work ethic, you will likely be able to identify those with strong leadership capabilities.
3. Take previous experience into account
While it is possible to identify leadership potential at any level, it is advisable to choose individuals with relevant and ample experience to move seamlessly into a more high-profile role. Those with an understanding of high-pressure environments and who already have some familiarity with making big decisions, problem solving and managing smaller teams will likely slot into a leadership position with greater ease and effectiveness.
4. Allow them to learn on the job
In a fast-paced work environment, it is often the easiest option to delegate work with a step-by-step guide on how to successfully fulfil the brief. However, by simply advising the individual on how to approach the task rather than explaining the process in detail, you provide an opportunity for them to rely on their own initiative and apply their learnings to date.
Remain on hand in case they have questions but do so from a distance. Repeat this process whenever possible to facilitate continued growth and to promote employee confidence.
5. Encourage them to share your passion
As an employer, you are undoubtedly passionate about what your company represents and how it performs. Encourage your team to embrace this passion by being transparent about all elements of the business. Celebrate with and congratulate them on business successes and be open when faced with challenges, while continuing to boost morale.
Nurture the team structure and emphasise its importance to the company. If your enthusiasm for the business and the team that keeps it ticking over is apparent, it will encourage others to adopt this mentality and use it as a driving force when in a position of leadership.
Communication Skills Training
Strong communication skills are a powerful attribute of any leader. At NxtGEN Executive Presence, we specialise in delivering corporate communication and presentation skills to executives, helping to develop their leadership potential. If you would like to enquire about any of our programmes, please fill out our enquiry form or email us at hello@nxtgen.ie.
Stand up, and stand out!